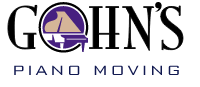 Why do you need a professional piano mover?
Remember this, "The bitterness of poor quality service remains long after the pleasure of low price is forgotten.
Our crews are "top-notch" and take pride in what they do. Let us take the worry out of your piano move so, you can just sit back and relax knowing your piano is in the BEST hands it can be.





Please contact us for your next big move. Our office hours are are Monday thru Friday 9am to 5pm EST.

Phone Numbers:
(888) 761-8211 - Toll Free
(717) 848-2688 - York, PA
(717) 292-2815 - Dover, PA
(410) 992-4331 - Columbia, MD
(410) 679-5069 - Edgewood, MD
(301) 251-5500 - Rockville, MD
(703) 764-5929 - Northern, VA

Fax Number:
(717) 292-0245

Mailing Address:
PO Box 8,
Dover, PA 17315




Email Address Links:


Tara Gohn - Manager