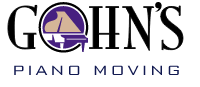 When the time comes to move your piano, you want perfection. It is after all, your "Pride and Joy!".
We have over 30+ years of experience in moving pianos and organs. Our trucks and trailers are fully equipped with the state-of-the-art equipment. This allows our crews to be prepared for anything! We don't "cut corners" to save money, we buy top of the line equipment to ensure a safe and professional move from start to finish.
Your piano is wrapped up safely and securely with padding as is the legs, lid (if baby grand or grand piano) and the bench. It is secured to the inside of our trucks to ensure a safe transport to the final destination. No matter what the distance is, down the street or 1000 miles away, we treat every move the same way, Safely and Soundly!


Moving

We handle local, as well as long distance moves. We do everything from single floor to multiple flights, spiral staircases, 90 degree turns, hoisting and cranes. We also will take your old unwanted piano and dispose of it

Get a Quote >

Storage

We offer temperature and humidity controlled storage facilities. The storage facilities remain at a temperature of 68 degrees to 72 degrees and the humidity remains between 30% - 40%. Perfect for your piano!!

Get a Quote >

Tuning

We network with many local piano tuners, technicians, refinishers, and dealers. So, feel free to call and ask us for a recommendation.

Gohns' Piano Moving will meet all of your piano's needs.
Our crews are "top-notch" and take pride in what they do. Let us take the worry out of your piano move so, you can just sit back and relax knowing your piano is in the BEST hands it can be.
Take a look at some photos from our recent moves >